Tombstone, Arizona – Senate Minority Leader Mitch McConnell (R-KY) was scheduled to return to work in the Capital today, April 17th, 2023, after a six-week absence due to a severe fall and head injury. One of his top aides has denied widespread rumors of his impending retirement – either from his leadership position or the Senate itself – which have been picking up steam in recent days. Upon the 81-year-old McConnell's return, he'll face the issue of his colleague, 89-year-old Dianne Feinstein, who has also been absent due to illness. Her absence from the Senate Judiciary Committee has caused delays in the confirmation process for several of Joe Biden's judicial nominees.
McConnell and Feinstein are among the oldest and longest-serving members of the Senate. The 81-year-old Kentucky Republican has served in the US Senate since 1985 and has been the Senate Republican Leader since 2007.
Unlike Feinstein and 81-year-old President Joe Biden, McConnell still retains most of his cognitive function, but the extent of damage caused by his recent head injury has yet to be seen.
The rumors of McConnell's retirement were boosted last week as reports began circulating of several fellow Republican Senate reaching out to colleagues and reportedly trying to build support for themselves as McConnell's replacement as the Republican Leader. John Thune (R-SD), who currently serves as the Republican Whip, as well as former Whip John Cornyn (R-TX), and John Barraso (R-WY), who chairs the Senate Republican Conference, were all reported to be making calls to colleagues regarding a possible leadership vote in the near future.
McConnell aides have insisted that the senator is not planning to retire "prematurely" but intends to, at a minimum, serve out his current term, which ends in 2027, after the 2026 elections. It would be unlikely, though not unprecedented, for McConnell to seek an eighth term in the Senate in 2026, which could keep him in office until just shy of his ninety-first birthday. Along with his recent fall and concussion, McConnell had previously suffered broken bones in a fall at his home several years ago, and he underwent triple bypass heart surgery in 2003.
McConnell is considered a "moderate" Republican and has never been a staunch defender of the right to arms, though he's frequently received "A+" ratings from the NRA…?
Many conservatives have been critical of McConnell's willingness to make concessions to Democratic presidents and his support last year for the "Bipartisan Safer Communities Act," which included several gun control provisions. President Biden and the media touted the measure as "the most significant gun control legislation in decades." Many GunVoters considered the measure an insult and betrayal by McConnell and a handful of Senate Republicans. [all who need to be primaried for their lack of conviction to RKBA]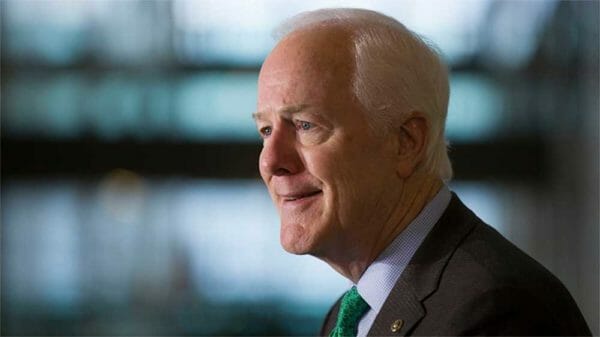 Leading the negotiations on the bill for Republicans was McConnell's former Whip, Texas Senator John Cornyn. Like McConnell and most Republicans who supported the Safer Communities Act, Cornyn does not come up for reelection until 2026. Texas GunVoters have already begun searching for a viable Republican candidate to challenge Cornyn in the 2026 Primary, but defeating an incumbent Senator is extremely unlikely.
A more feasible way to punish Cornyn for his complicity in the passage of the Safer Communities Act and its included gun control measures would be to deny him his bid for the Leader position if and when McConnell gives it up. Unfortunately, that won't be easy either, as senators vote on leadership positions. They tend to be based more on personal relationships and work ethic than a political philosophy or policy positions. Cornyn is well-liked by his colleagues and is recognized as a hard worker. A pressure campaign from GunVoters demanding that their senators reject Cornyn for leadership roles might help one of the other candidates, but holding senators accountable for their vote on leadership is pretty tricky. Still, it is possible and has little downside, so it's worth a shot.
Despite their squishy records, Cornyn, like McConnell, has traditionally received high marks from the NRA. Where NRA will come down if the rumors of a looming vacancy prove true is difficult to predict. In 2020, NRA spent almost $500,000 supporting Cornyn in his reelection bid. That same year, GOA had graded Cornyn as a "B-."
The message senators need to receive is that GunVoters are not happy with Cornyn and his participation in the passage of the Safer Communities Act. We don't want him in any leadership position in the Senate going forward.
You can reach your senators by calling the Congressional Switchboard at 202-224-3121. Only Republican senators are able to vote on Republican leadership, so only address this message to Republicans in the Senate.
GunVoters have been effectively divided and sidelined by internal bickering and shifting priorities. Still, we should all be able to agree that John Cornyn should not be put in charge of Republican Senate priorities. If you live in a state with Republican senators, call 202-224-3121, ask for your Republican senator, and let whoever answers the phone know that you strongly oppose any move, now or in the future, to elect John Cornyn to any position of authority within the Republican caucus.
Neither John Thune nor John Barrasso is above reproach, but either would be a better choice for Leader or other leadership positions than Cornyn, and your Republican senators need to hear that from you.