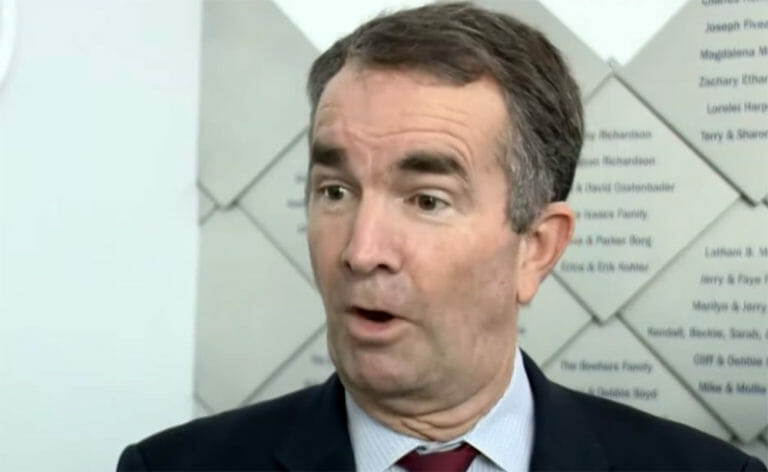 USA – -(AmmoLand.com)- Virginia Governor Ralph Northam has issued an Executive Order declaring a state of emergency and banning all firearms and other weapons from the public areas around the Virginia Capitol Building in Richmond, as well as several nearby parking areas.
In the order, the governor recalls the violence that erupted in Charlottesville, Virginia 3 years ago, involving clashes between activists protesting the planned removal of a Confederate monument, and violent leftist, counter-protesters.
The governor claims in the order, that "credible intelligence" indicates that "tens of thousands of advocates plan to converge on Capitol Square," for events culminating on January 20 (a scheduled rights rally and Lobby Day, organized by the Virginia Citizens Defense League (VCDL), which has been held annually, without incident, for almost 2 decades) and that "Available information suggests that a substantial number of these demonstrators are expected to come from outside the Commonwealth, may be armed, and have as their purpose not peaceful assembly but violence, rioting, and insurrection."
What "available information" Governor? A few Instagram memes from the outskirts of the fringe? Is that what it takes to deny the rights of "tens of thousands," a suggestion that some people might do something bad?
In Charlottesville, there were two general groups that were both known for engaging in violence, and both had placed the potential for violence between them, squarely out on the public table.
Then Virginia Governor Terry McAuliffe's response to this situation was either incredibly incompetent or maliciously effective. He pulled police back from the conflict zone, then literally pushed the two factions together. Even with that, the resulting violence was isolated and in most cases, relatively minor, until one deranged young man with "white power" ties, accelerated his car into a group of the counter-protesters.
The Upcoming Pro-Rights Lobby Day is totally different.
There is no conflict between warring factions. In this case, the conflict is primarily between supporters of the Constitution and the Bill of Rights, and the Democrat politician majority in the State Legislature. Neither group, nor the Democrats' anti-gun supporters, have any sort of history of violence. While there have, no doubt, been some imprudent comments and over-hyped memes thrown out on the interwebs, that sort of chest-thumping is common, and no reflection of events in the real world.
Virginia Citizens Defense Lobby Day
VCDL's Lobby Day has been an annual event on Martin Luther King Day since 2002. For most, if not all of that time, citizens were able to, not only be legally armed at the rally on the Capitol grounds but to maintain their personal protection sidearms while visiting their elected servants. In all of that nearly 2 decades of rallying and citizen lobbying, there has never been a serious issue involving guns or any sort of violence.
Participation in Lobby Day this year is expected to be much greater than in years past because Democrats in the legislature have introduced and vowed to pass, several draconian gun control measures that many people are very upset about. But they are gathering in Richmond to express their concerns in accordance with the traditions of our republic, not to assault or intimidate anyone with violence. Yes, many will probably be armed. That's very normal for gun rights advocates. Yes, some militia groups – typically with a mission statement of protecting and defending the U.S. Constitution – are expected to participate.
And yes, even some Antifa and other "left-wing" groups are planning to be there – standing shoulder-to-shoulder with "right-wing" groups, in support of individual rights and opposition to government infringement of those rights.
When faced with violent groups clashing in Charlottesville, Governor McAuliffe pulled police back from the conflict zone and pushed the antagonists together.
Now, when faced with a broad coalition of activists following the rules and gathering to petition their government for a redress of grievances, Governor Northam is pulling out all of the stops, bringing in hundreds of law enforcement personnel, and violating rights by executive fiat.
Just as Governor McAuliffe's actions can readily be interpreted as facilitating violence that could then be used for political purposes, Governor Northam's actions appear to be intended to inflame an already heated situation, again for political purposes.
Governor Northam's actions are patently illegal. Gun Owners of America has joined with the VCDL in filing a lawsuit calling for an immediate injunction against the governor's unlawful edict, and I think there is potential for criminal charges to be brought against the governor in this case.
The United States was founded on principles of trust and cooperation among disparate individuals. Gun control laws and actions like Northam's illegal Executive Order are based on fear and mistrust. They are always about what someone fears that someone else might do. Oppressing the rights and liberties of the majority, for fear of what might be done by some small minority, is the definition of tyranny.
If you can make it to Richmond on Monday morning, do it. We don't need a show of arms to make our point, but we do need a strong show of people. As I said in my previous piece on this subject, the way to win this fight is to overwhelm the opposition with kindness.
Be polite. Be courteous. And most importantly, Be There!